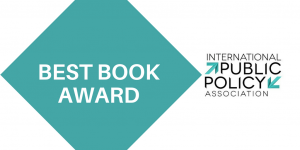 The IPPA Best Book Award will be awarded biennially at the Association's International Conference on Public Policy (ICPP). The award is given to a single- or co-authored monograph that makes an original and significant theoretical, methodological and/or empirical contribution to the field of Public Policy and/or Public Administration. Edited collections, handbooks, and textbooks are not eligible for the Award.
In 2019, a Jury established by IPPA and composed by Klaus Schubert (University of Munster), Olivia Jensen (Lee Kuan Yew School) and Kent Weaver (Georgetown University) will determine the Best Book Award winner. The 2019 Best Book Award will be also officially presented at ICPP4-Montreal 2019, where a panel will be devoted to the winning book.
Scholars are invited to submit nominations for the Award. Books with a publisher's imprint of 2016 or later are eligible for the 2019 Award. Books published by current members of the IPPA Executive are not eligible for the award.
To nominate, log in to your account (or create one) and click on "I want to apply" button in this page. Nominations should include:
A PDF/electronic version of the book.
 Please direct your questions to icpublicpolicy@gmail.com