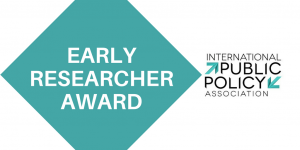 The IPPA Early Researcher Award will be awarded biennially to a scholar who, within seven years of completing the PhD, has published a single-authored monograph that represents a major theoretical, methodological and/or empirical contribution to the field of Public Policy and/or Public Administration.
The 2019 Early Researcher Award will be officially presented at ICPP4-Montreal 2019, where the award winner will appear on a panel devoted to his/her book.
To be eligible for the 2019 Award, the date of publication imprint of the nominee's book must be 2011 or later. Publications by academic and non-academic presses are eligible. A thesis published online by the PhD granting university's library is not considered to be a publication for the purposes of this award. For the 2019 Award,  the nominee's book must have been published in English.
A Jury established by IPPA and composed by Jale Tosun (University of Heidelberg), Jenifer Curtin (University of Auckland) and Iris Geva-May (Baruch College) will determine the Early Researcher Award winner. It will make its decision on the basis of nominations submitted.
To nominate, log in to your account (or create one) and click on "I want to apply" button in this page. Nominations should include:
A 500-750 word explanation of how the Early Researcher's book makes an innovative theoretical, empirical, and/or methodological contribution.  This explanation may refer to reviews and citations of the book
A  CV of the nominated early researcher that includes the date at which his/her PhD was awarded
An electronic/PDF copy of the nominee's book.