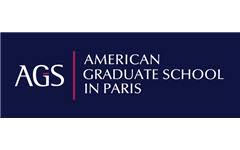 Event Information
Location
The American Graduate School in Paris (AGS)
Synopsis
The American Graduate School in Paris (AGS) is now accepting paper submissions for its 2018 International Graduate Student Conference. This year's theme is entitled: Refugee Politics in International Relations.
Theme and objectives
This one-day academic conference will look at how the recent influx of migration and refugee movement has affected various aspects of international affairs. Possible topics could include but are not limited to:
·       Impact of Sovereignty and State Borders on Refugee Politics
·       Movement of Refugees and Conflict
·       Refugees and Security
·       International Law of Refugees
·       Refugee Rights and Repatriation
·       Refugees and Citizenship
·       Diaspora Communities and Refugees
·       UNHCR and Refugee Politics
·       EU Open Borders and Refugee Politics
·       Identity politics of Refugees
·       Asylum and Refugees
·       Refugees and military intervention
·       Refugee politics from a feminist perspective
·       Humanitarian issues and asylum seekers
·       Securitization of borders; sovereignty versus human rights
·       Anthropological effects of transcultural exchange
For more options, please refer to Refugees in International Relations, edited by Alexander Betts and Gil Loescher
This conference hopes to bring together inquisitive graduate students and scholars as well as practitioners from NGOs, government agencies and intergovernmental organizations to review, assess, and challenge the notions of displacement in today's international arena. It seeks to expand the discourse on the political, economic and social implications of migration as nations reexamine policies in response to these crises, aswell as further our understanding of the various causes and drivers of displacement. Our conferences are always an enjoyable moment of learning through academic exchange, questions, and healthy dialogue.
This conference is organized by AGS students under the faculty supervision of Professor RuchiAnand. It is primarily designed to feature student presenters as the heart of the conference and will close with our distinguished keynote panel.
We are seeking interested students, scholars and practitioners to submit abstracts of their work. Full papers are not required, but highly suggested before the final presentation.Submitters should know that if they are selected by an academic panel for publication in the AGS journal during the conference, they will be required to send in a completed draft two weeks after the conference.
Date and location
The AGS International Graduate Student Conference will take place on Friday, April 27th 2018 in Paris, from 9 am to 6 pm.
It will be held at the American Graduate School in Paris, in the 6th arrondissement - five minutes from the Luxembourg Gardens and the French Senate.