Occidental Miguel Ángel Hotel and Urban Spa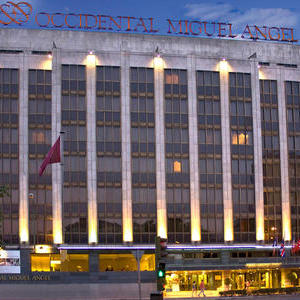 Experience the true elegance of a grand 5-star city hotel in the very core of Spain's capital city.
Located on Paseo de la Castellana, right in the centre of the financial and commercial district of Madrid, its privileged location provides easy and convenient access to Madrid-Barajas International Airport, International Fair Park IFEMA and all the major city attractions. The Occidental Miguel Angel Hotel is the perfect accommodation choice for both business and leisure travellers with the stylish The Lab Room SPA, top class dining and our trademark impeccable service, provide the best guarantee for a perfect stay.
Closest Metro
Metro Gregorio Maranon
Line 7 Hospital del Henares / Pitis
*5 stations to Congress Venue at Ciudad Universitaria (1 transfer)
Room Rates*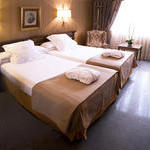 Standard Single: €115
Standard Double: €125
Executive Single: €155
Executive Double: €165
Executive Premier Single: €170
Executive Premier Double: €180
Includes: Buffet breakfast, complimentary WIFI access, safety box and minibar and complimentary access to the Spa & Fitness Centre
Executive and Premier rooms include: Welcome with French Champagne, exclusive bar and restaurant, business centre for club clients only, in-room welcome tray, bathrobe, pillow selection, breakfast at private club restaurant, complimentary non-alcoholic drinks at the club bar, complimentary non-alcoholic drinks from the minibar, daily national and international press, 1 ironing service (1 garment) and 1 shoe service (1 pair of shoes)
Reservation deadline: 8th June 2012. Any reservation after this date will be on request, subject to the Hotel's availability
*8% taxes not included
Cancellation Policy
Cancellations from 3rd July 2012 until the arrival date will be penalized with one night stay
No shows will be penalized with the total of nights reserved.
Early check outs will be penalized with one night stay
Reservations
All reservations must be sent to the hotel by filling out the reservation form
Download reservation form here in Microsoft Word or PDF format:
Microsoft Word Reservation Form - will be uploaded soon
Fax: +34 91 441 32 93
Email: reservas.hma@oh-es.com
Contact Details
Occidental Miguel Ángel Hotel and Urban Spa
Miguel Ángel, 31
28010 Madrid, Spain
www.occidentalmiguelangel.com
Tel: +34 91 442 00 22
Fax: +34 91 441 32 93
Email: reservas.hma@oh-es.com
By Metro
Take line 8 from the Airport, change at Nuevo Ministerios to line 7 for one stop until Gregorio Maranon.
By taxi from the aiport
About €35
Click here to return to Congress Accommodations page
View Hotel Occidental Miguel in a larger map